Picture framing & mounting service in Wandsworth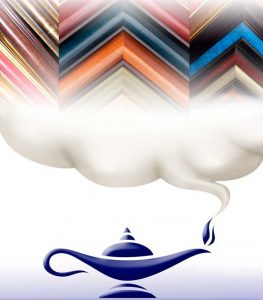 Bespoke picture framing and mounting  services in South London,  Wimbledon and Balham. We love talking to our customers – so please call on 020 8772 1700
Bespoke picture framing and mounting  in Wandsworth, London
So you have an artwork that needs framing and you don't know where to go? We have been framing prints, and art for nearly 30 years and have built up an enormous expertise. Whilst we are not a high street enterprise our expertise is serving the picture framing needs of our customers albeit large businesses or individuals.
Genie Imaging's bespoke picture framing and mounting service is used with just about every print we make. And so, we are very specialist at framing your Art. And most of all we hold a large selection of frames in stock ready for any occasion. A visit to our framing studio will help you get an idea of which way to frame your work as there are lots of ideas on our walls.
Indeed, we like to work with you whether it is a bespoke single picture  frame or a batch of 100 frames for an upcoming exhibition. Indeed,  as bespoke picture framers,  we know that your picture framing deadlines are important to you.
Because we control every aspect of Giclee Printing, copying , scanning , retouching or mounting – we can offer you a single point of contact that can expertly handle your picture  framing requirements at wholesale prices!  If you want to frame your prints, Art or oil paintings or posters – please come  (By appointment only) to our framing workshop here in Wandsworth Common, London and take a look at what we can do for you.
Once you've decided what's best to do, our bespoke picture framing and mounting team will make you made to measure frames. We"ll work  closely with you  and bring forward a framing solution that will match your budget.
Bespoke Picture framing and Artglass
We cut custom picture mounts to all sizes and use a variety of glass from float glass to high specification Art glass.
We hold a wide selection of frames in house ( we can order almost anything in one day) that we can produce to order. Genie Imaging have a great deal of experience in custom framing a wide variety of your material from large posters to small enlargements. Please enquire on 020 8772 1700 or email nick@genieimaging.co.uk
Mounting on Dibond, mdf, kappa and sealing:
We offer a full mounting service onto a wide variety of substrates for all items up to a maximum of 1020 wide
Card
Kappa
Foamex
Dibond
Aluminium
Please enquire on 020 8772 1700 or email nick@genieimaging.co.uk